To contribute to the development of a strategy and techniques for European research in computerized analysis, utilizing and communicating chemical information.
To present current problems and solutions in technology and applied research.
To make industry aware of strategic research methods and results and help to put research in life.
To make advanced methodology used in academia applicable to industrial scale problems.
To seed statistical approaches, thinking and knowledge in industrial research.
Statistical Molecular Design

PCA/PCR/PCL/SIMCA

Regression, Calibration

Generalisation of Linear Models

Soft and Classical Modelling

Simulation, Stochatic Methods

Multivariate Analysis

Robust Methods

Classification, Clustering

Applied Multivariate Methods

Optimization, Genetic Algorithms

Analysis of Spectroscopy Data

Exploratory Analysis of Multivariate Data

Neural networks applications

Graphing an imaging

Spatial Variability

Industrial Quality Control, SPC, QI, QA

Quality assurance in laboratory

Validation, acreditation

Free Software

Teaching chemometry

Exhibition and Poster Section
Richard Brereton, University of Bristol, UK
Vincenzo Esposito Vinzi, Universita degli Studi di Napoli
Michel Tenenhaus, HEC Paris
Harald Martens, The Royal Veterinary and Agricultural University Denmark
Johan Trygg, Umea University, Sweeden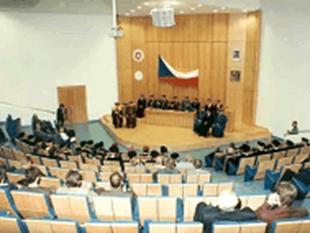 (alphabetically by authors)
Surname

First name

Country

Paper Title

Nagwa

Abo El-Maali

Egypt

Simultaneous Voltammetric Chemometric Determination of the Anticancer Drugs: Tarabine PFS, Adriplastina and Methotexate

Evelyn

Archery

South Africa

Simultaneous Multicomponent Analysi of Cu, Ni, Fe and Co Using Partial Least Squares

Adegbola

Ayobami

Nigeria

Exploratory Data Analysis - Addressing the Context in which Chemometrics Works

Marek

Brabec

Czech Republic

State-Space Dynamic Model for Estimation of Radon Entry Rate, Based on Kalman Filtering

Richard

Brereton

United Kingdom

1:Applications of Pattern Recognition; 2:Statistical Use of Analytical Chemical Data in Court Cases

Walter

Focke

South Africa

1:Correlating Physical Property Data with Canonical Pade Approximants; 2:A Wilson Local Composition Model for the Viscosity of Liquid Mixtures

Jaroslava

Hálová

Czech Republic

EA of Structure-Activity Data (QSAR) using GUHA

Liudmila

Larina

Russia

The Analytical Signal Modelling for the Analysis Accuracy Increase at Some Model Determination by Stripping Voltametry in Environmental Objects

Milan

Meloun

Czech Republic

Miminizing the Effects of Multicollinearity in the Polynomial Regression

Harald

Martens

Denmark

Multivariate and Multiblock Chemometrics: A Culture for the "New Bioinformatics"?

David

Milde

Czech Republic

Teaching Chemometry and Good Laboratory Practice at Palacky University in Olomouc

Jiří

Militký

Czech Republic

Improved Uncertainty Prediction Strategy

Muili

Mubarak Akorede

Nigeria

Development of Chemometric Software

Afshin

R. Khorrami

Iran

Determination of Caffeine in Blake Tea Leaves with FTIR Spectrometry Using Chemometrics
A Comparision Between MLR, PLS, CLS as Calibration Models

Gbadamosi

Ramoni Adewale

Nigeria

How to Design Software

Selvarajah

Shankar Kumar

India

Wavelength Based Classification Technique

Sujatha

Subramainan

India

Optical Spectrum Analysis

Hana

Šormová

Czech Republic

Statistics and its Application During the Analysisi of Optical Spectra; Uncertainties and Measured Spectroscopy Data

Tomáš

Syrový

Czech Republic

Number of Components Using Modified PCA Scree Plot in Spectroscopy

Michel

Tenenhaus

France

PLS and Sensory Analysis

Johan

Trygg

Sweden

Recent Developments in PLS Regression: OSC Filters, Pure Profile Estimation and Bi-directional (X-Y) Modeling

Vincenzo Esposito

Vinzi

Italy

PLS Generalised Linear Regression: Foundations and Recent Advances with Variable Selection and Validation Procedures

Zdeněk

Wagner

Czech Republic

Robust Estimation of Particle Size Distribution of Atmospheric Aerosols by Gnostic Theory

Manuel

Zarzo Castello

Spain

1:Analysis of multiblock data sets to identify the key process variables in a batch polymerisation; 2:Consistency analysis for PLS with variable selection to diagnose a dehydration process; 3:Analysis of dynamic gas sensor response using chemometric methods

Simeone

Zomer

United Kingdom

Active Learning Support Vestor Machines For Optimal Subset Selection in Classification
Scientific Programme (click to open PDF file)
(see registration form for more details)

Regular conference fee €340

Reduced conference fee €290*

CompStat participants fee €150

(Members of ČSCH €260)

Student conference fee €150 (ISIC Card required)

Early payment before March 31 is reduced by 20%

Late payment after June 30 is raised by 10%

Hostel accomodation (breakfest not incl.) €90

Hotel accomodation (breakfest incl.) €220

Lunches €70

Party & Excursion €60

*For selected countries only, need prior approval from organizer, for list of countries see http://unstats.un.org/unsd/demographic/social/inc-eco.htm

Important deadlines

ü March 31 2004      Early payment (-20 %)

ü April 30 2004         Abstract submission

ü May 31 2004         Fulltext paper submission

ü June 30 2004         Regular payment  (+0 %)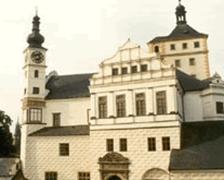 Pardubice chateau
Pardubice is a historical town (100 000 inhab.), ca 100 km east of Prague, easily accessible by train. Pardubice is a home of chemical industry (petrochemistry, polymers, inorganic, explosives). Chemstat conference is situated in a new conference facility at University of Pardubice.
Prague International Airport -> Prague Wilson (main) Railway Station (by bus or taxi, 40 minutes) -> Pardubice (by train, 90 minutes) -> Conference site University of Pardubice-Polabiny (by troleybus no.3, 15 minutes)
Visa for Czech Republic - for info see Czech foreign affairs info
In more detail:
How to get from Prague to Pardubice

Take train from Prague-Main Wilson Station to Pardubice (cost about 200 CZK), takes 90 minutes.

From Pardubice train station take taxi (200 CZK) or troley no 3 or bus no 4 to University center at "Cihelna", bus stop = "Polabiny-Hradecka" or "Polabiny-Hotel". You have to buy bus ticket (9 CZK) at Tobacco shop or vending machine in advance

Hotel accomodation is in Hotel Harmony at the above bus stop "Polabiny-Hotel", reservation for "TriloByte" from Sunday.
Hostel accomodation is opposite at "Vysokoskolske koleje", block D, you have to register at the reception.

Conference starts on Monday at 10.00 at the Conference center.
Registration: 8.00 – 10.00

All prices are very approximate.

Local Currency: Czech Crown (CZK or Kč)
Approximate currency rates rates:

1 Euro = 31 CZK
1 USD = 25 CZK
1 GBP = 46 CZK
Equipment for speakers
All usual presentation equipment will be available during the meeting
including:
Windows2000 PC with for PDF and PPT presentations from your CD with Data pojector,
classical overhead projector for transparencies,
flipchart,
board and chalk.
Local Transportation map of Pardubice (click to enlarge)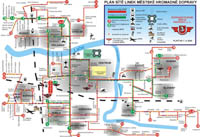 Download the List of Abstract from our 1995 Chemometrics Conference in Pardubice (6.7 MB).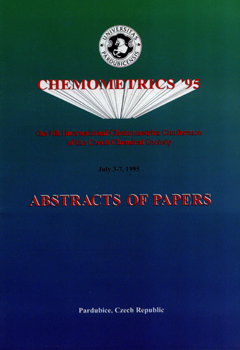 Please, fill in the registration form: REGISTRATION
Sponsors and Exhibitors Info (click here)
General sponsors of the Chemstat 2004
We are looking forward to meet you in Pardubice, city of science, sports, gingerbread, beer and more.
Organizers